We're Getting Mutants in the MCU - The Loop
Play Sound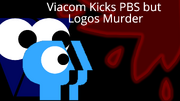 Okay guys we actually did it, this is a diamondwindows' lost video called "Viacom Kicks PBS but Logos Murder". Suddenly, The video has scrapped btw, Enjoy.
One day, the p-head growing the split and shows her text "PBS". The Text shows "Viacom" and Viacom Tries Kick PBS, Suddenly the jetix tries to kick viacom.
VIACOM: GOD FUCKING DAMN IT!
JETIX: Oh hi. p-head.
P-HEAD: Who are you?
JETIX: I'm jetix and im a logo seeker.
UBUNTU: Hey! Wassup or what?
P-HEAD: I dont give a fuck... NEVER WHAT I DO THIS!
P-Head grabs the chainsaw. and kill viacom sometimes.
VIACOM: WHAT THE FUCK?!
P-HEAD: YOU ARE FUCKING LIAR!!!!
Suddenly. P-Head trying to kill Viacom, He is screaming like a bloody murder, such a blood and gore! Oh My!
JETIX AND UBUNTU: WHAT THE HELL?!?!!
Viacom is dead bloody body while "Place in the World Fades Away" music playing on background
NETWORK NINE: Wait WHAT!!!
Network Nine starts crying self to viacom's death.
MAC AND UBUNTU: It's okay, network nine... You're all killing logos now...
Dead Viacom violently attack to mac and ubuntu.
Theres is a Technical Difficulties Screen, There's some the characters:
Boyfriend (FNF)
Nonsense (FNF Mod)
Crystal (Kittydog)
Ankha (Animal Crossing)
NETWORK NINE: Wait, Whats Happening?
JETIX: Our recording equipments are destroyed.
NETWORK NINE: Great. We gonna see what's doing on our scene.
GAUMONT: Oh hi guys.
UBUNTU: Hi, I'm not dead!
GAUMONT: Yep. she is.
Suddenly P-Head is covered with blood
P-HEAD: *heavy breathing* W-W-Where... There is killing viacom!
GAUMONT: Ummm... Actually yeah.
WINDOWS: P-Head, are you okay?
P-HEAD: I'm too sorry... Now im gonna kill you up!
P-Head tries kill windows, however. Windows is blood and guts, he is crying and screaming
Windows is dead while "Place in the World Fades Away" music playing on background
A 2 flash pictures called "Wafflecopter from Kittydog covered with blood and dying self" and "Puz.EXE" with static sound in 0.01 picoseconds.
JETIX: WHAT... THE... FUCK?!
Jetix starts crying while windows has died. Suddenly jetix puts gun on a head. he yelled "GO FUCK YOURSELF BITCH YOU ARE DUM-DUM!!!!!!" and he shoot himself. That is a blood and brain has covered! oh my!
thus "Place in the World Fades Away" music playing on background
then this video ends. The text "THE END" then "And Logos died. Some Logos will return in P-Head The Series: Volume 4."
The Video Ending Background called "P-Head hanging with a noose but covered with blood"